Slowing Money Supply Growth In 2022 Points To Recession Not Inflation
Contra trend Rally Just Ahead Recent Lows Should Hold
August 10, 2022
Winners and Losers in Democrats' Signature Tax and Energy Bill
President Joe Biden and Senate Majority Leader Chuck Schumer are the biggest winners now that a huge piece of Democrats' economic agenda is hurtling toward enactment.
The tax and energy bill passed Sunday after a year and half of rocky negotiations that divided the party. It gives Democrats tangible progress on key issues to show voters in the midterm elections this November.
Biden's popularity nose-dived a year ago in the wake of the haphazard Afghanistan pullout and rising inflation — and a year of infighting among Democrats over the domestic agenda. That squabbling is in the past and Biden can say a cornerstone of his agenda will become law.
Schumer was slammed last year for failing to unite his caucus behind Biden's Build Back Better plan. He managed to revive a slimmed version of the deal, navigate last-minute holdups and blindside Republicans hours after they gave up leverage by allowing a bipartisan semiconductor bill to pass.
Here's who else comes out on top and who takes a hit from the landmark bill:
WINNERS:
The Wealthy
None of the billions of dollars in tax increases Democrats floated a year ago on high-earning Americans made it into the final version of the bill, including proposals to double the capital gains rate, increase taxes on inheritances and levy a surcharge on millionaires. Despite rhetoric from Democrats that they wanted the richest Americans to pay much more, there wasn't consensus within the party to pass a bill that raises levies on the 1%.
Private Equity
Private equity fund managers were able to dodge a tax increase that Senator Joe Manchin wanted, but fellow moderate Democrat Senator Kyrsten Sinema insisted be taken out of the bill. Manchin had wanted to narrow a tax break known as carried interest, that allows fund managers to pay lower capital gains rates on their earnings. The private equity industry was able to gain an additional win shortly before the final passage of the bill when a handful of Democrats broke with their party to vote on a Republican amendment that created a carveout for private equity-owned companies in the corporate minimum tax.
Manchin, Sinema
The entire contents of the bill were essentially cherry-picked by Manchin and then tweaked to fit Sinema's preferences. The two moderates amassed huge leverage with their willingness to accept no bill at all — and attacks from progressives — rather than a bill with provisions they opposed. The pair were also able to score some direct benefits for their states as part of the negotiations: Manchin secured an agreement to permit the completion of the Equitrans Midstream Corp.'s Mountain Valley Pipeline, and Sinema was able to get $4 billion for drought relief in western states.
Electric Carmakers
The deal extends a popular $7,500 per vehicle consumer tax credit for the purchase of electric vehicles, a win for EV makers like General Motors Co., Tesla Inc. and Toyota Motor Co. But to win the backing of Manchin, companies will have to comply with tough new battery and critical minerals sourcing requirements that could render the credits useless for years for many manufacturers. Not all manufacturers stand to benefit from the credit. New cars that cost more than $55,000 and $80,000 for pickups and SUVs won't qualify for the credits.
Renewable Energy
Solar company Sunrun Inc., energy storage and software provider Stem Inc., and hydrogen and fuel cell company Plug Power Inc. stand to benefit from generous tax credits in the bill. Nuclear reactor operators such as Southern Co., Constellation Energy Corp., Public Service Enterprise Group Inc. and Energy Harbor Corp. also could see a boon from a $30 billion production tax credit for nuclear power providers.
Oil Companies
Oil and gas got a boost alongside newer energy sources. The bill, which could mandate more federal oil and gas lease sales and boosts an existing tax credit for carbon capture, won praise from companies such as Exxon Mobil Corp. and Occidental Petroleum Corp. The legislation creates a new 10-year product tax credit for hydrogen production that rises to as much as $3 per kilogram depending on carbon intensity.
Medicare, Obamacare Enrollees
The final bill caps out-of-pocket costs for seniors' prescription drugs at $2,000 a year and allows Medicare to negotiate the prices on 10 medications four years from now. The bill avoids a large January increase in Obamacare premiums for many middle income people by extending subsidies for three years.
Deficit Hawks
Manchin negotiated $300 billion in deficit reduction into the bill, the first major effort by Congress in 11 years to reduce the difference between how much the country spends versus how much tax revenue it takes in. The deficit cuts are minor compared to the $24 trillion national debt but hawks say it's a start.
The IRS
The Internal Revenue Service will get an influx of $80 billion over the next decade to expand its audit capability and upgrade technology systems after years of being underfunded.
LOSERS:
Republicans
The GOP was confident they had beaten back Biden's tax and climate agenda and were stunned in late July when Schumer and Manchin announced a deal. While still the favorites to gain seats in the midterm elections, passage of the bill is a major setback for the GOP's policy aims. It does, however, give them a new issue to campaign on in the fall campaigns.
Pharmaceutical Companies
The bill allows Medicare for the first time to negotiate with pharmaceutical companies on drug prices, a change that Congress has been discussing for decades with limited success, in part because of the drug lobby's power. The pharmaceutical industry was able to score a partial victory after the Senate parliamentarian blocked a portion of the bill that would have capped price increases for drugs in the commercial market. Drug-makers will likely offset some of their reduced revenue from Medicare negotiations with higher prices for patients with private insurance.
Tech Companies
Technology companies are set to bear the brunt of the two major tax increases in the proposal — a 15% minimum tax on financial statement profits and a new levy on stock buybacks. Corporations like Alphabet Inc.'s Google and Meta Inc.'s Facebook have both been able to deftly use the tax code to cut down on the taxes they owe, while still being profitable. The minimum tax is designed to increase levies on companies that report large profits to shareholders, but can claim many deductions and credits to cut their IRS bills.
The SALT Caucus
The legislation does not include an expansion of the $10,000 cap on the state and local tax deduction, or SALT. The omission is a blow to residents of high-tax states in the Northeast and West Coast, and Representatives Josh Gottheimer of New Jersey and Tom Suozzi of New York, who led the effort to increase the size of the write-off.
Bernie Sanders
The $437 billion in spending is a far cry from the $6 trillion that progressives, led by Senator Bernie Sanders, envisioned at the start of Biden's presidency. The bill excludes all proposals for new social programs, including child care, tuition-free college, housing spending and an expanded-child monthly child tax credit.
Be on the lookout for the final two stages of bear market grief — depression and acceptance — before a major new bull market can begin.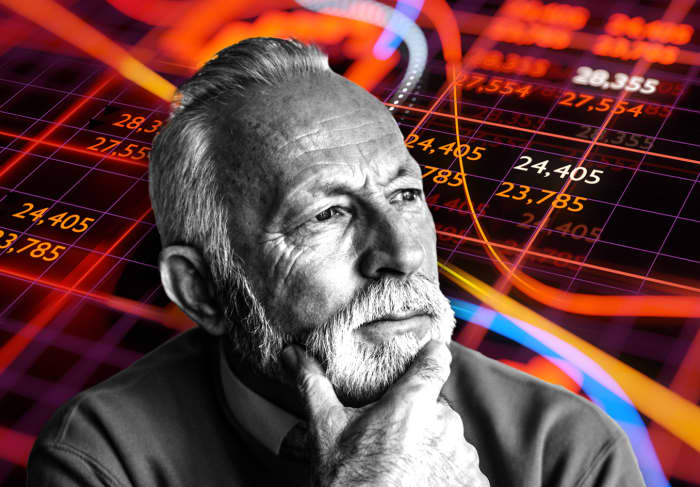 Stock investors have a lot more grieving to do before the bear market breathes its last.
According to the five stages of bear market grief, which I addressed in mid-May, we're currently at stage three. That leaves stages four and five to suffer through; unfortunately, these are the most painful.
To summarize, the five stages of bear market grief have parallels to the five stages of grief introduced by the late Swiss-American psychiatrist Elisabeth Kübler-Ross:
Denial
Anger
Bargaining
Depression
Acceptance
Judging where the stock market is in this five-stage process is not an exact science. Investors may be further ahead or further behind. In mid-May, it was still possible to deny the bear market's existence, for example, since the S&P 500 SPX, +1.42% had not yet dropped 20% from its all-time high.
Most investors have moved beyond stages one and two. It's been six weeks since the S&P 500 satisfied the bear-market criterion and investors' focus has shifted into survival mode. This brings us to the third stage, when (as I wrote in mid-May), "Investors redirect their energies to figuring out if they can maintain their lifestyles despite the portfolio pullback; retirees rejigger their financial plans to see how they can avoid outliving their money."
Consider a recent tweet from Ryan Detrick, the perceptive chief market strategist at Carson Group. He pointed out that, since 1982, the stock market has completely recovered from bear markets within five months or less if the losses were less than 30%. Since the S&P 500 at its mid-June low was 24% below its all-time high, this statistic would appear to be good news — suggesting that stocks may be back in new all-time high territory by year-end.
In other words, this bear market isn't so bad after all — as long as its loss doesn't exceed 30%. This is a classic "bargaining" perspective. As Kübler-Ross pointed out, in the bargaining stage we attempt to regain control over a situation by exploring an endless number of "what if" and "if only" statements. Yet trying to control a bear market is laughable. As she argued, this stage in effect is nothing more than a defense against feeling pain.
There aren't only psychological reasons for why we shouldn't take too much solace from the quick recoveries from the past four decades' shallowest bear markets — a sample that, per Detrick's calculation, contains just four examples. Some questions:
Why choose 1982 as the cutoff? Unless there are sound theoretical or statistical reasons for doing so, it's a red flag when focusing only on a small subset of a bigger database. A far different picture emerges from the September 1976 to March 1978 bear market, for instance. During it the S&P 500 lost 19% but, according to Detrick, it took 17 months to recover that loss. If you take inflation into account, recovery took a lot longer: according to my calculations of the S&P 500's dividend- and inflation-adjusted return, it took almost four years for the stock market to dig itself out of the hole created by that 1976-78 bear market.
Shouldn't the Federal Reserve be acknowledged for helping the stock market recover quickly? Take the February-March 2020 bear market, for example, which far exceeded the 30% loss threshold. Nevertheless, complete recovery took just five months, and the Fed's extraordinary stimulus deserves the lion's share of the credit. In fact, one could argue that the dominant factor behind this quick recovery is the Fed, rather than the magnitude of the prior bear market's loss. This possibility is especially important to keep in mind now, since far from easing monetary conditions the Fed is taking away the punch bowl.
The bottom line? It's possible to slice and dice historical data in many different ways to support predetermined conclusions. I'm reminded of Adlai Stevenson, the Democratic candidate for U.S. president in the 1952 and 1956 elections: Mocking his opponents, he reportedly would say "Here is the conclusion on which I will base my facts."
None of this means that the stock market couldn't stage a strong rally in coming weeks. But if my analysis is on target, be on the lookout for the final two stages of bear market grief — depression and acceptance — before a major new bull market can begin.
Paying The Price For Krugman's Terrible Mistake
Authored by MN Gordon via EconomicPrism.com,
Clear economic thinking and lucid communication via the written word tumbled out of fashion nearly 100 years ago. The fall from grace was triggered by the 1936 publication of John Maynard Keynes' The General Theory of Employment, Interest and Money.
Not only is the book is rigorously indecipherable. It also has the ill-effect of making those who read it dumber. Unfortunately, Keynes' drivel became the standard for foolish economic thinking, which still infects economic discourse to this day.
Many politicians and establishment economists remain enamored with Keynes' gibberish. They love what it offers. In short, it provides academic rationale for governments to do what they love to do most – borrow money and spend it on ridiculous programs.
For example, Keynes advocated filling bottles with money and burying them in coalmines for people to dig up as a way to end unemployment. According to Keynes, this would provide jobs and money for the unemployed. Somehow, these public works egg hunts would create an economic boom and make everyone rich.
Over the years this reasoning has inspired countless government stunts to save the economy from itself. The American Recovery and Reinvestment Act of 2009 and the American Rescue Plan of 2021 are two mega Keynesian inspired spending bills passed this century. The U.S. will never be able to overcome the consequences of these asinine programs.
Just over a decade ago, Keynes devotee, Paul Krugman, took the logic of Keynesian economics and ran with it to the outer limits of deep space. In the process, he lost his mind.
Following his righteous departure from planet earth, Krugman went on cable television and explained that the proper way to propel an economic growth chart up and to the right is to borrow massive amounts of money and spend it preparing for an alien invasion.
Only a Nobel Prize winning economist could come up with such nonsense.
A Very Bad Call
Paul Krugman, of course, is a complete madcap. His days contemplating apparent aggregate demand insufficiencies and perceived supply gluts turned his brain to mush. His time staring at graphs while pondering possible government policies to make the graphs show what he wants transformed him into a moron.
Krugman has unwittingly experienced a higher learning glut from within the confines of Princeton University. In the pursuit of theory, he forgot one critically fundamental thing…how to think.
Yet occasionally, when buckets full of ice cold reality are repeatedly thrown in his face, Krugman has a brief moment of clarity. Consumer price inflation raging at an annual rate of 9.1 percent appears to delivered that moment.
On July 21, 2022, Krugman penned on op-ed in The New York Times titled: "I Was Wrong About Inflation." In the article, Krugman focuses on the $1.9 trillion American Rescue Plan, which was passed in March of 2021 to counteract the economic consequences of government ordered coronavirus lockdowns.
In the op-ed, Krugman mentioned that some economists warned it would lead to rising inflation. But that he, like many other Keynesian economists, was "fairly relaxed" about the stimulus package. "As it turned out, of course, that was a very bad call," admitted Krugman.
The experience over the last 18 months has shown the Keynesian nirvana of countercyclical stimulus spending to be absolute bosh. Somehow, with all his liquidity trap graphs, Krugman couldn't see what was so clearly obvious…
That printing trillions of dollars and directly injecting them into the economy via stimmy checks, PPP, and lavish unemployment checks would cause raging consumer price inflation.
Broken Models
Did Krugman think this would be another instance of pushing on a string, like the 2008 bailout of the big banks via AIG? Did he think the fake money would largely remain within the financial sector like TARP funds did, and only slowly drip out into the real economy?
Maybe so. Here's Krugman's rationale for his "very bad call."
"Historical experience wouldn't have led us to expect this much inflation from overheating. So something was wrong with my model of inflation — again, a model shared by many others, including those who were right to worry in early 2021.

"In any case, the whole experience has been a lesson in humility…But in retrospect I should have realized that, in the face of the new world created by Covid-19, that kind of extrapolation wasn't a safe bet."
Apparently, Krugman's model of inflation is a great big dud. It failed to forecast the greatest consumer price inflation blowout in over 40 years. If it couldn't do that, then what good is it?
To be clear, a model is only as good as its inputs. The Keynesian approach of using aggregate data to identify apparent demand insufficiencies and perceived supply gluts is flawed. Unemployment. Gross domestic product. Price inflation. These data points are all fabricated up and fudged out to the government number crunchers liking.
For each headline number there are a list of footnotes and qualifiers. Hedonic price adjustments. Price deflators. Seasonal adjustments. Discouraged worker disappearances. These subjective adjustments greatly affect the results. So what good are they?
And why's The New York Times still giving Krugman a platform?
Paying the Price for Krugman's Terrible Mistake
Now, where the rubber meets the road, failed Keynesian policies coupled with monetary madness have positioned the U.S. economy and financial system in an extraordinarily unfavorable place. Where consumer price inflation is raging while the economy is contracting.
Just yesterday (Thursday), second quarter GDP data was released by the Commerce Department. Between April and June the economy contracted at an annual rate of 0.9 percent. This is on the heels of a first quarter GDP contraction of 1.6 percent.
Two consecutive quarters of contracting GDP meets the technical definition of a recession. So, with shrinkage occurring in both Q1 and Q2, the U.S. economy is without a doubt in a recession.
Treasury Secretary Janet Yellen may say, "this is not an economy that's in recession." But the facts – the government's own fudged data – say otherwise.
Yet here's where things really get interesting…
Because professional economists like Krugman and Yellen were wrong about inflation, and the Federal Reserve let it get away, the Fed is having to hike the federal funds rate in the face of a contracting economy. This week the Fed hiked the federal funds rate another 75 basis points to bring it to a range of 2.25 to 2.50 percent.
How much higher can the Fed go before something breaks?
We'll find out soon. Moreover, we expect a mega disaster to arrive before inflation subsides. At this point, the Fed will have to trigger a massive, 1930s-style depression to stop inflation in its tracks.
Here's the point: Krugman was wrong. He admitted it. And we all get to pay the price for his terrible mistake.
Stock signal given by Dow theory
Here's what this indicator says about stocks.
Dow Theory can be used to help determine the market's trend.
This indicator suggests there may be reason to be optimistic short term.
Key factors to watch continue to be earnings, potential rate hikes, inflation trends, COVID developments, and spillover effects of the war in Ukraine, among others.
At this time last year, stocks were ascending to new all-time highs and COVID developments were the dominant factor helping drive markets. What a difference a year makes. While COVID continues to loom over markets to some extent, stocks are down more than 20% year to date, driven lower primarily by multiple US central bank rate hikes, spiking inflation, and geopolitical unrest from the war in Ukraine. These factors, mixed with relatively resilient corporate earnings, have US stocks—as measured by the S&P 500—trading in a range in recent weeks.
If you are an active investor looking to identify the primary direction that the market may go over the near term and you like using charts to supplement your fundamental analysis of investment ideas, consider utilizing Dow Theory—the foundation of technical analysis created by Charles Dow, cofounder of The Wall Street Journal and the Dow Jones Industrial Average.
Dow Theory suggests there may be reason for optimism over the near term.
What is Dow Theory?
Much of technical analysis—finding patterns and trends based on market behavior and investor psychology—derives from Dow's belief that markets move in trends. Dow, who died in 1902, used the analogy of the ebb and flow of tides to describe how the market acts. He believed that stocks move in trends, similar to how waves crash onto the beach, and leave patterns in the sand to show where high and low tides occurred.
When Dow was researching the market in the late 1800s, there were far fewer stocks, and indexes were not as commonly used as they are now. Dow created 2 indexes, or averages, as they are referred to in Dow Theory: Industrials and Transportation (also known as Transports). These averages served as the basis for his analysis of primary and secondary trends. Here are the key tenets of Dow Theory:
The averages discount everything (i.e., they reflect all relevant market information).
The market moves in waves and trends, and a trend is assumed to exist until evidence suggests it has reversed.
Volume must confirm the trend.
Dow believed that markets are forward-looking and that past price movements can help discern probable future price trends. This is the crux of all technical analysis. Chart analysts believe that Dow Theory presents an opportunity to step back from the day-to-day fluctuations of the market and help understand relatively longer-term primary trends.
Dow Theory in action
If there is one critical application of Dow Theory to know about, it is that the averages must confirm one another. Dow was referring to the Dow Jones Industrial Index and the Dow Jones Transportation Index.
For example, suppose that during a bull market rally the Transports made a new relative high (a price that is higher than the most recent data, which can be several weeks or months) but the Industrials did not. That the averages did not confirm one another (both did not make new relative highs at roughly the same time) may indicate that a reversal of the trend could be on the horizon. Consequently, Dow Theory suggests that both averages could fall below a significant support level.
Not only did Dow believe that the movements of the 2 averages (Industrials and Transportation) must confirm each other, he also thought that volume for 1 or both averages must confirm the trend. For example, if a stock rises and volume rises (relative to a recent time frame, say, the past several weeks or months), that means volume has confirmed the uptrend. Similarly, if a stock declines and volume rises, that means volume has confirmed the downtrend. Dow assumed an existing trend to be in place until clear signals, confirmed by volume, indicated that it has reversed.
Dow Theory now says…
The chart below shows how both the Industrials and Transports have trended lower throughout 2022. An interpretation of this year's downtrend could be described as a secondary wave within the context of the larger uptrend.
More recently, the Industrials and Transports have made some lower lows and higher highs—albeit not consecutively in both cases. For the averages to confirm one another, a continuation of this trend might be a signal that bullish sentiment is strengthening over the short term.
Source: Active Trader Pro®, Fidelity Investments, as of July 20, 2022. The data, charts, and information shown above is provided solely for individual use and is not for distribution. Data and information shown is based on information known to Fidelity as of the date it was exported and is subject to change. Criteria and inputs entered, including the choice to make security comparisons or to show technical event opportunities (if available), are at the sole discretion of the user. Volume in the chart is for the Industrials.
The volume picture is less clear. Generally, volume has been soft, but that is often the seasonal effect this time of year where volume tends to diminish over the summer months. Consequently, volume does not appear to confirm any existing trends or potential reversals. Traders utilizing Dow Theory would want to confirm any bullish move with the presence of increasing volume.
Dow Theory in context
Critics of Dow Theory (and of technical analysis in general) might say that price behavior alone is not sufficient information on which to base an investing decision. Additionally, Dow Theory relies on 2 indexes that have changed composition dramatically since the theory was created more than 100 years ago.
More importantly, signals given by Dow Theory and other indicators may be rendered irrelevant when powerful market events—like Fed rate hikes, inflation trends, geopolitical developments, and COVID effects—overwhelm any value of assessing underlying market psychology through price action.
That's why you might consider using Dow Theory in combination with other tools and methods, including fundamental analysis, to help identify trends and potential changes in trends. With that said, Dow Theory, created by the father of technical analysis, may provide useful insight into this market.
Stay out of Dollars! Stock Doc