The Financial Crisis Will Be
Greater Than The
Pandemic Crisis
HOW MUCH RISK DO YOU WANT TO TAKE?
Visualizing The Biggest Companies In The World In 2021
Since the COVID-19 crash, global equity markets have seen a strong recovery. The 100 biggest companies in the world were worth a record-breaking $31.7 trillion as of March 31 2021, up 48% year-over-year. As a point of comparison, the combined GDP of the U.S. and China was $35.7 trillion in 2020.
In today's graphic, Visual Capitalist's Jenna Ross uses PwC data to show the world's biggest businesses by market capitalization, as well as the countries and sectors they are from.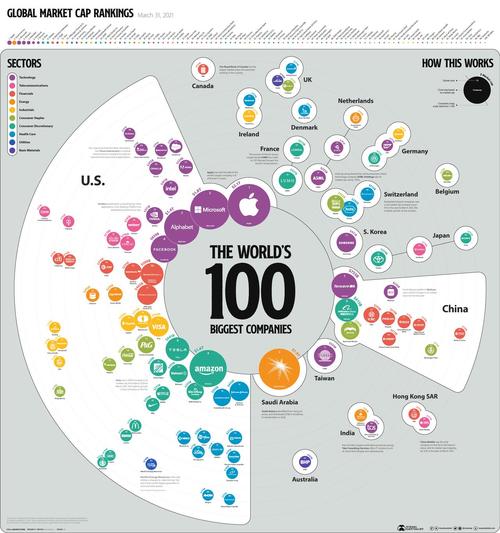 The Top 100, Ranked
PwC ranked the largest publicly-traded companies by their market capitalization in U.S. dollars. It's also worth noting that sector classification is based on the FTSE Russell Industry Classification Benchmark, and a company's location is based on where its headquarters are located.
Within the ranking, there was a wide disparity in value. Apple was worth over $2 trillion, more than 16 times that of Anheuser-Busch (AB InBev), which took the 100th spot at $128 billion.
In total, 59 companies were headquartered in the United States, making up 65% of the top 100's total market capitalization. China and its regions was the second most common location for company headquarters, with 14 companies on the list.
Risers and Fallers
What are some of the notable changes to the biggest companies in the world compared to last year's ranking?
Tesla's market capitalization surged by an eye-watering 565%, temporarily making Elon Musk the richest person in the world. Food delivery platform Meituan and PayPal benefited from growing e-commerce popularity with their market capitalizations growing by 221% and 151% respectively.
Tech companies TSMC and ASML Holdings were also among the top 10 risers, thanks to a shortage of semiconductor chips and growing demand.
On the other end of the scale, Swiss companies Nestlé, Novartis, and Roche Holding were all among the bottom 10 companies by market capitalization growth. China Mobile was the only company to decline with a -12% change. The company was delisted from the New York Stock Exchange as a result of an executive order issued by former president Donald Trump, and recently announced its intention to list on the Shanghai Stock Exchange.
A Sector View
Across the 100 biggest companies in the world, some sectors had higher weightings.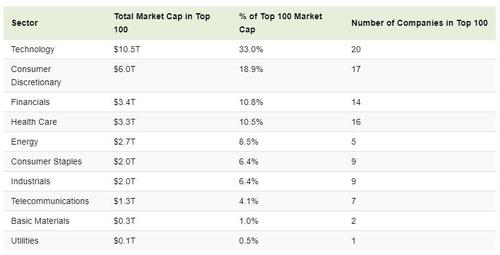 Technology had the highest market capitalization and was also the most common sector, with Big Tech dominating the top 10. Companies in the consumer discretionary, financials, and health care sectors also had a strong representation in the ranking.
Despite having only five companies on the list, the energy sector amounted to almost 10% of the top 100's market capitalization, mostly due to Saudi Aramco's whopping valuation.
An Uncertain Recovery
From near market lows on March 31, 2020, all sectors saw increases in their market capitalization. However, top 100 companies in some sectors outperformed their respective industry index, while others did not.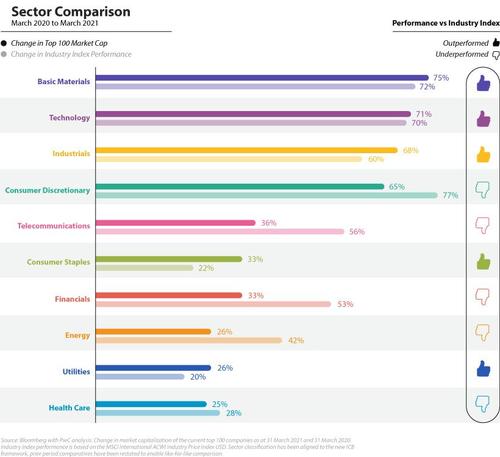 Basic materials and industrials, both cyclical sectors, were high performers in the top 100 and outperformed their respective industry indexes. Technology companies also outperformed, and accounted for $255 billion or 31% of all shareholder distributions by the top 100, far more than any other sector. Apple alone spent $73 billion on share buybacks and $14 billion in dividends in the 2020 calendar year.
On the other hand, the worst-performing sectors in the top 100 were health care, utilities, and energy. While the index performance for health care and utilities was also relatively poor, the wider energy sector performed fairly well.
It's perhaps not surprising that all sectors saw positive returns since their low levels in March 2020, buoyed by fiscal stimulus and central bank policies. As countries begin to reopen, will the value of the biggest companies in the world continue to climb?
Reviewing Market Signals As Warnings Increase
Authored by Lance Roberts via RealInvestmentAdvice.com,
Are you worried about the potential for a market correction, a surge in inflation, or are you unsure how to invest for your retirement? We can help. If you are not yet a client and would like to discuss your portfolio construction, please schedule a time to meet with one of our advisors below.
Reviewing Market Signals
Over the last several weeks, we discussed evaluating the recent "buy" signal and concerns about a potential summer correction. We will review that bit of history and discuss our reduction of equity exposures this past week.
May 7th:
"The uptick in money flows did allow us to add some exposure to portfolios in holdings we took profits in previously. Overall, the market trend remains bullish, so there is no need to be overly defensive. Just a regular process of tweaking risk and managing exposures is all that portfolios require for now."
May 14th – things didn't work out as planned:
"Well, that follow-through failed to occur. Not only did the "buy signal" not trigger, but the market also broke down through the previous consolidation range. The last exposure we took on is now pressuring the portfolio momentarily, but we should benefit from the turn if we are correct."
May 21st – the rally gets underway:
"We do expect a counter-trend rally due to the liquidations occurring by institutional investors over the previous few weeks. We will hold exposures at current levels for now. However, instead of looking for a more extended rally into mid-summer, we suspect this rally will be fairly short-lived."
That week we also began to build the case for a 5-10% correction by mid-summer.
"The risk of a more significant drawdown outweighs the reward longer-term, but we are willing to trade short-term opportunities."
Jumping ahead, last week, the signals returned to overbought short-term conditions.
"The good news is that we did indeed get the rally we were expecting. The not-so-good news is that the rally already consumed a majority of the 'buy signal.' Such does not mean the market is about to correct; it does suggest that upside remains limited near term."
Market Struggles At Highs As Signals Peak
While the market did hit all-time highs this week, it was a feeble rally. Both Thursday and Friday saw the market drop into the red intraday only to be saved by end-of-day buying. Unfortunately, as shown, money flows continued to decline until there was "distribution" as the market hit highs. Such is not a sign of confidence the "highs" will stick.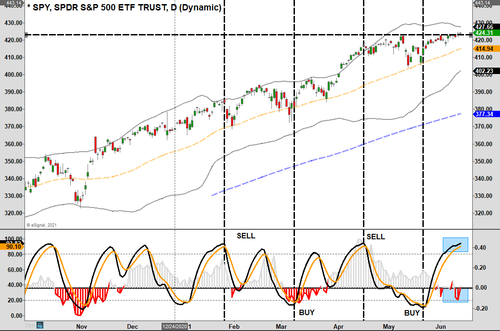 On a weekly chart, the picture improves somewhat with the "buy signal" still intact. However, it is just barely the case, and if we get selling pressure next week, it will trigger a "sell."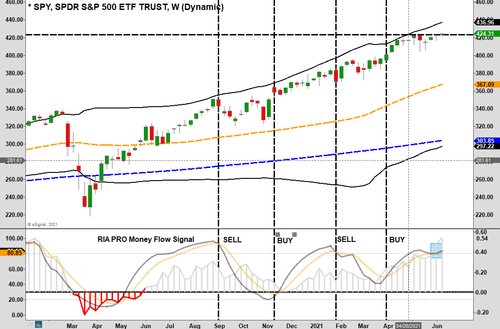 As discussed previously, we set our expectations for a 5-10% correction between mid-June and July. With that window approaching and signals very close to triggering "sells" on both a daily and weekly basis, we used the rally this week to lighten our equity exposure and raise cash levels. (See the portfolio update below.)
For now, the bullish trend remains intact. Therefore, there is no need to get overly defensive at this juncture. However, being excessively complacent and not applying some risk management to portfolios will leave you flat-footed when the correction does come.
Investors are exceedingly exuberant about markets once again, with numerous analysts suggesting nothing but "blue skies" ahead.
Maybe. But there are plenty of warnings that suggest "carrying an umbrella" may come in handy.
Warning Signals Increase
In our "Warning Signs Ahead," we discussed several concerns of a correction in the coming weeks. Importantly, as noted then, we are only discussing the potential for a short-term correction. As is often the case, some tend to extrapolate such commentary to mean a "crash" is coming. Such is not the case currently, but it does not mean a deeper correction is not possible.
Currently, complacency has reached more extreme levels. As noted last week, the 15-day moving average of VIX, on an inverted scale, suggests a correction is likely.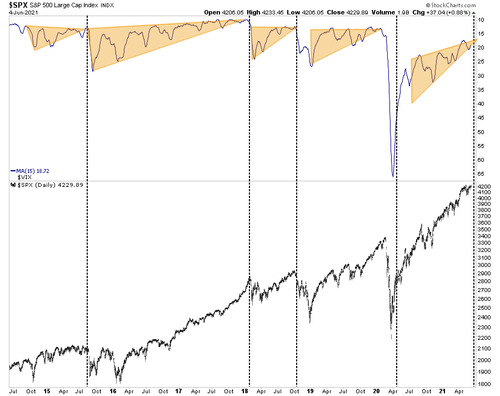 "The market may have one last push higher over the next several weeks. Such will take the VIX even lower and complete the VIX wedge pattern. That pattern has been evident in the last three 10% or greater corrections. By this measure, the correction should begin somewhere around July 21st – August 10th." – Jim Colquitt
Morgan Stanley's market timing indicator is also at levels typically associated with market downturns. Just for reference, the current reading is the most "bearish" on record.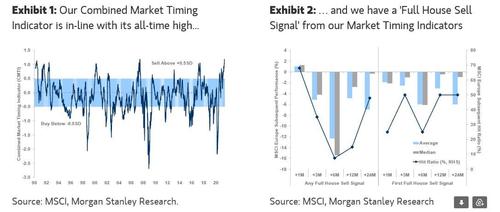 We covered several other indicators, all suggesting that risk has become elevated. Moreover, given the length of the current advance without a correction, the risk of such has increased.
More Signs
Furthermore, during the past week, we saw other indicators suggesting that market upside is likely limited short-term. For example, Sentiment Trader made an excellent observation of the recent rotation from large to small-caps.
"Over the past few weeks, there has been a remarkable rotation under the surface. On May 12, only 31% of stocks in the Russell 2000 were holding above their 50-day moving averages. In the Info-Tech sector, only 25% of stocks were above their averages. Both have seen participation more than double since then, while the S&P 500 has stagnated internally, as pointed out by the esteemed Liz Ann Sonders."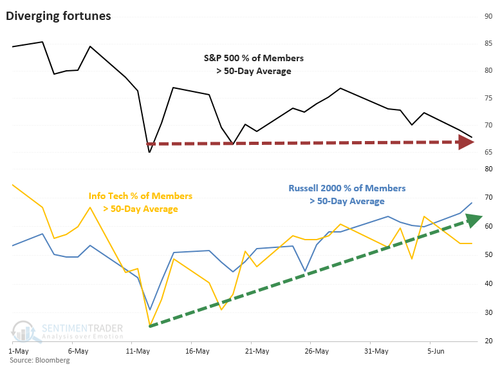 As noted above, one of the common themes has been numerous bullish commentators suggesting the market is about to run to new highs. However, given the confluence of warning signals and "stagnation" of the advance, the bearish view is such action usually appears near market peaks. Sentiment Trader provided some historical evidence.
"Looking at available history, bears have the more compelling evidence on their side, depending on the index and the time frame. The table below shows the S&P 500's future returns when its percentage of members above the 50-day average rises less than 12.5% over a multi-week period while the percentage of members above their averages in Small-Caps and Tech rises more than 25%."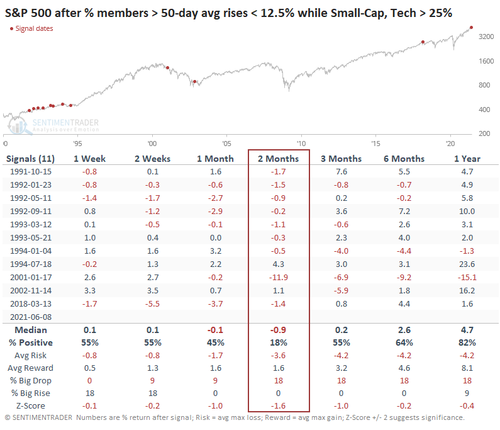 Again, given the more extreme conditions seen in not only our current short-term "money-flow" signals but numerous other indications, the risk of a short-term correction seems a realistic probability.
Does such mean that a "correction" must occur? No. However, as noted last week, we prefer to err to the side of our analysis and discipline. By the time a correction appears, it is often too late to mitigate the damage effectively.
Bonds Say Deflation Is The Risk
Despite a sharp year-over-year increase in the latest CPI report, the bond market suggests deflation remains the more considerable risk. As shown in the chart below, the latest CPI and "Core CPI" surged sharply. I also included a "consumer inflation gauge," which excludes healthcare and home prices. (For most individuals, these two costs are fixed by a mortgage payment and health insurance.)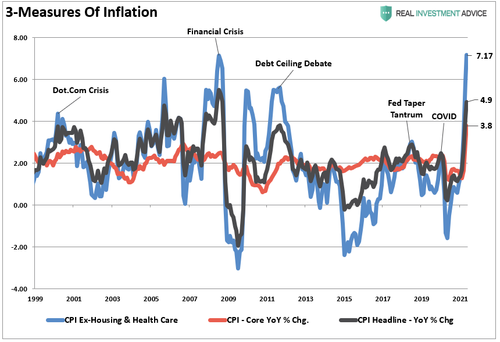 Interestingly, the "bond market" continues to suggest deflation is the more significant threat as we are currently at the largest deviation between annual CPI and rates since 1980.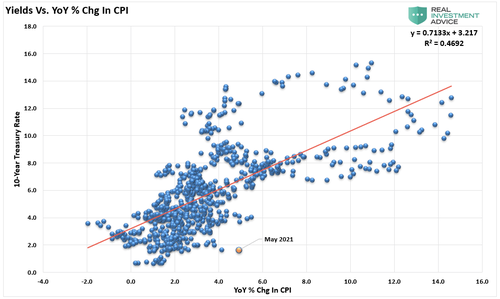 This model suggests the market agrees with the Fed's view that inflation is transitory and is pricing in sub-2% inflation and economic growth. Furthermore, over the next two quarters, the year-over-year rate of change will slow (the "base effect") as the economic "shutdown" is removed from the calculation.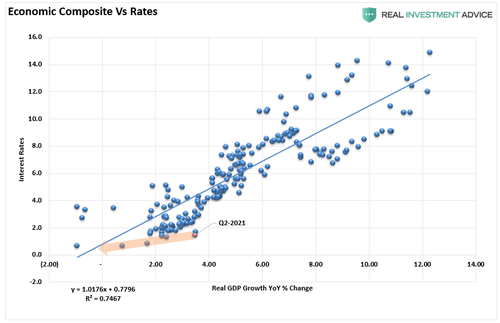 As discussed in Friday's #MacroView report "The Dollar, Rates & 2021 Outlook," deflation is set to return.
"Contrary to the conventional wisdom, disinflation is more likely than accelerating inflation. Since prices deflated in the second quarter of 2020, the annual inflation rate will move transitorily higher. Once these base effects are exhausted, cyclical, structural, and monetary considerations suggest that the inflation rate will moderate lower by year-end and will undershoot the Fed Reserve's target of 2%. The inflationary psychosis that has gripped the bond market will fade away in the face of such persistent disinflation." – Dr. Lacy Hunt
Furthermore, given real wages are not keeping up with the actual "cost of living" increases, the "stimulus" effect is fading, and the pull-forward of consumption is mostly complete, we most likely have seen the peak of economic and earnings growth.
We remained concerned about a repricing of risk over the next few months.
What The Next Gold Confiscation Will Look Like… And How To Protect Yourself
Authored by Nick Giambruno via InternationalMan.com,
On April 5, 1933, under the pretext of a national emergency, President Franklin D. Roosevelt issued Executive Order 6102, making it illegal for U.S. citizens to own gold.
The decree forced Americans to sell their gold at an artificially low "official price." If they refused, the government could hit them with stiff penalties: a $10,000 fine (equivalent to $205,000 today) and/or up to 10 years in prison.
The government blatantly stole wealth from the American people.
Many worry the U.S. government might confiscate gold again if it becomes desperate enough. I don't think those fears are unfounded. The U.S. government's abysmal financial situation is only getting worse.
But would it really do a 1933-style grab again?
I don't think it will. However, there is another growing threat to your gold.
More Likely Than Outright Confiscation
Today, only a tiny fraction of the U.S. population owns gold. Heck, I'd bet most Americans have never even seen a gold coin, much less appreciate its value.
This wasn't the case in 1933, when the U.S. was still on a variation of the gold standard. That's why the government probably won't repeat the 1933 rip-off. It's simply not worth the effort.
If the government wants to confiscate wealth, it's far more likely to go for the easy option… steadily debasing the currency by printing money. It's a stealthy way to confiscate from savers.
That doesn't mean gold owners are in the clear.
I think the government will try a new scam: taxing windfall profits on gold. This would make it much easier for the government to accomplish something similar to its 1933 heist.
There's precedence for it, too. In 1980, Congress passed the Crude Oil Windfall Profit Tax Act, which taxed up to 70% of "windfall profits" of domestic oil producers.
What the heck is a windfall profit anyway?
As far as I can tell, it's whatever politicians decide it is. It's completely arbitrary. There are no objective measures to define it.
In short, a windfall profit is simply a profit politicians don't like.
The whole concept is a scam—a word trick to camouflage and sanitize legalized theft.
If the price of gold explodes, I wouldn't be surprised if Congress passes a Fair Share Gold Windfall Profit Tax Act levying a tax of 80%, 90%, or more on gold profits.
Fortunately, there are some practical steps you can take to protect yourself from this form of politically motivated expropriation.
One way you can avoid a windfall-profits tax on gold is to renounce your U.S. citizenship. But that's a drastic step. It's just not realistic for most people.
Thankfully, there's a far more practical option. You can do it from your living room. And you don't have to turn in your passport.
The solution is to own gold stocks in a Roth IRA.
A Roth IRA is a tax-free zone. You fund it with after-tax savings, and any future capital gains or income derived from investments in your Roth IRA are not taxable.
While you can never be 100% sure what the U.S. government will do, it's far less likely a future tax increase, even a windfall-profits tax, would affect investments in a Roth IRA.
A Roth IRA is the most practical way to protect yourself from the most likely form of future gold confiscation—a windfall-profits tax. It makes you a hard target.
* * *
Most people have no idea what really happens when a currency collapses, let alone how to prepare… Owning gold is essential. But there's more to do to make sure your wealth doesn't get wiped out in the coming financial tidal wave.
Bitcoin Is De-dollarization. Ethereum Is DeFi-nancialization
Authored by Mark Jeftovic via BombThrower.com,
Lately I have been thinking a lot about the difference between Bitcoin and Ethereum while at the same time the world is witnessing the inexorable move to crypto in realtime. Some may question the latter half of that assertion, given that the latest FUD cycle against cryptos has been one of the most intense that I've witnessed since getting involved in the space in 2013.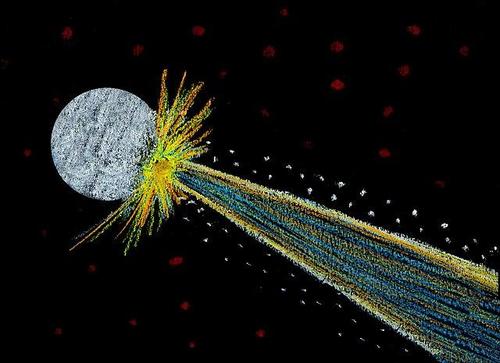 Behind the FUD we see actions. We see Russia dumping dollar assets (can you blame them?).
We hear Munger making almost childishly uninformed remarks on crypto, yet BRK is investing in one of the world's most crypto friendly banks.
We see El Salvador as the first country in the world to make Bitcoin legal tender.
In my mind this has not only sounded the starting gun on de-dollarization in earnest, it goes beyond that. Back in the late 90's people like me were about the age of many of the crypto kids today, and we were talking about the Internet Asteroid headed straight at the telecoms and traditional media.
Today, pretty well everybody is aware of Bitcoin. They may have positive or negative opinions on it, but most people are figuring out that it's here to stay and there is a spectrum of sentiment around that ranging from enthusiasm to denial. But I don't get the sense that traditional institutional finance sector sees the other asteroid coming, and it's coming straight at them.
The new 60/40 portfolio will mean Bitcoin/Ethereum
Or maybe Ethereum/Bitcoin. Whatever your risk tolerance and investment objectives entail. I've been listening to the Bankless podcast lately and in more than one episode they've said something about Bitcoin as compared to Ethereum that I think is very helpful. It's really helped me think about the two in terms of construction of a crypto portfolio.
They've said, in essence, that Bitcoin is for when you're bearish on society and Ethereum is for when you're bullish.
It's not that I agree with that literally (I don't), but it really helped me refine the distinction I've always had around Bitcoin being the value and Ethereum being the execution in a coming tectonic shift into crypto.
In the olden days, bonds and equities had an inverse correlation. Bonds kept your portfolio afloat when the economy hit a soft patch and stocks went down (yes, in the olden days, stocks could experience bear markets, sometimes for months or even years). Conventional wisdom was to have a portfolio mix between equities and bonds, along some rule of thumb like 60/40 adjusted for your age, risk tolerance, etc.
We're headed into a world where Bitcoin and Ethereum will fulfil the roles that bonds and equities did traditionally.
The basic thesis of my Crypto Capitalist Letter is that Bitcoin will be on the receiving end of an impending mother-of-all wealth-transfers. Many Bitcoiners think that if Bitcoin is "digital gold" then that means the incoming funds flow will be from the 10 Trillion dollar gold market. I think this is wrong.
Bitcoin's looming funds inflow isn't going to come from gold. Maybe some will, maybe some shorter term gold holders will jump ship to Bitcoin in much the same way that this latest down cycle since April has been driven largely by younger coins (weaker hands) selling out. (Overall I think gold and silver will also be on the receiving end of this great transfer).
But Bitcoin's inflow will come largely from the more than ten times larger bond market. Not gold. Not 10 Trillion. 120 Trillion, of which 20 trillion of it already yields negative returns ( "return free risk"). A simple layer 1 Bitcoin lending program with an institutional level custodian like Gemini or Galaxy (whom we hold in our TCC portfolio) would yield 400 basis points right there, and that's without even counting the price appreciation.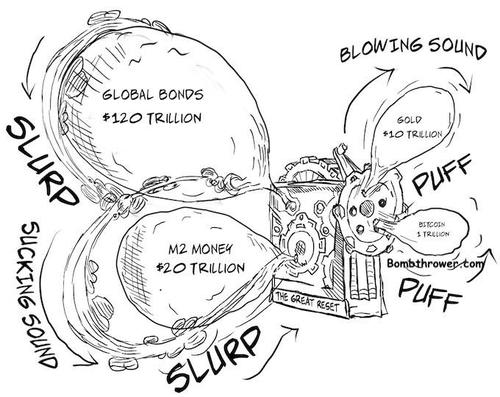 "The TAM is Everything"
But what I didn't realize until the Bankless panel this week about the current state of DeFi is that there's another 100 Trillion-plus market, and it's going to be sending its value in a parallel mother-of-all wealth transfers. That wealth transfer is the flight of assets from the traditional banking system into Ethereum and into DeFi.
In my mind this is what DeFi actually means. Where financialization is the widespread hollowing out of all value and turning it into multiple layers of rehypothecated debt, DeFi is De-Financializing assets.
DeFi is where money gets intelligence and value can compound and where tokenized assets increase their purchasing power over time. It's where savers are rewarded, instead of penalized and demonized. It's where capital formation is possible.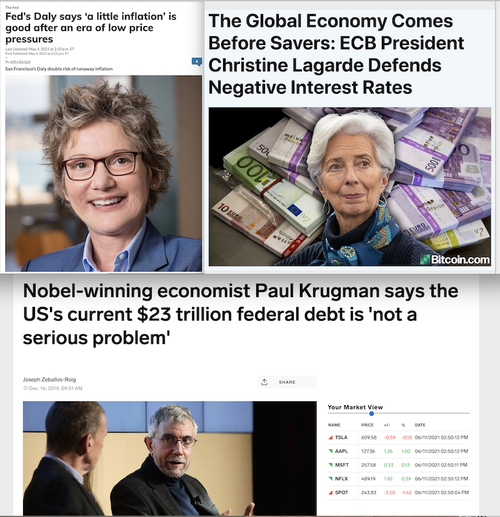 Most institutions won't be making this transformation. The majority of them will gravitate toward the Central Bank Digital Currencies (CBDCs), which as we say in The Crypto Capitalist Manifesto, CBDCs will be specifically constructed to preclude savings, make capital formation impossible and will be a honeypot of dependancy for the masses who allow their economic lives to be bounded by them.
But many of those institutional clients, the ones that see The Great Bifurcation coming, will make this shift, and they'll bring their capital with them.
"I'm not excited about institutions in DeFi at all, I think they are just not the right users for this. This is about giving individuals financial tools that they've never had before such that they don't have to go to an institution that rips them off"
— Spencer Noon
I see this playing out in real time in the world and in my personal experience, here's three quick data points
Trying to set up a simple USD/CAD hedge with my bank for the business, something I had already done 10 years ago when the CAD strengthened above the USD. This time it took months of meetings and they want me to put up 170K collateral on a 40K hedge and put on a personal guarantee.
Setting up that same business for EFT transfers for a large client and the bank solemnly informed us "you must possess a fax machine to use this system". Uhm ok. I'll see if I can dig one out of the back of my storage locker. Until recently their online FX system also only ran on Internet Explorer (which goes end-of-life next year)
My credit card company, until recently, charged me a fee when I overpaid my balance they owed me money in terms of an "inactivity fee".
It is this is the type of institutional lethargy that is all tailwind and gasoline for DeFi.
In the case of the forex hedges, I'm now looking at places like Synthetix and hiring a smart contract developer to simply create the hedges for me. The way I envision it, anybody would be able to earn a return on their assets by staking the liquidity pool for USD/CAD, and Canadian businesses with exposure to USD currency weakness would be able to easily hedge for that without pledging their house (if you know anybody who can help me out here, my DM's are open).
I'm cancelling that credit card and getting set up with one of the many new crypto backed credit cards that give you cash back on every purchase in crypto.
One of the reasons people are skeptical of crypto and fool themselves into thinking it's some kind of passing fad ("ponzi" or the negligently uninformed "tulips") is because this is happening so fast. In realtime. (They didn't read Future Shock back in the 70's, 80's or 90's or if they did, they either forgot about it or didn't fully understand what it meant).
Bitcoin is going to eat the bond market and capture the flight from fiat currencies. It will become that digital gold or bond equivalent in a crypto portfolio.
Ethereum is going to demolish the financial institutions and probably be the front line against CBDCs, functionally.
CBDCs will be asswipe money. Get it, spend it, use it on disposable stuff (if it's algorithmically permitted) and that you don't mind being surveilled buying.
Stockman Warns "Buckle Up!", May's Soaring CPI Print Was No 'Transitory' Blip
Authored by David Stockman via Contra Corner blog,
The Fed's destructive money-pumping has many victims, but chief among these is the Wall Street financial narrative itself.
It emits not a whiff about the patent absurdity of the Fed's monthly purchase of $120 billion of treasury and GSE debt under current circumstances; and treats with complete respect and seriousness the juvenile word game known as "thinking about thinking about tapering" by which the clowns in the Eccles Building fearfully attempt to placate the liquidity-intoxicated speculators on Wall Street.
So it's not surprising that today's 5.0% CPI reading was made inoperative within minutes after the BLS release by a chorus of financial pundits gumming about "base effects" and ridiculing outliers like soaring used car prices (up 29.7% YoY), which, of course, Bloomberg reporters never see the inside of anyway.
Then again, that's why we look at the two-year stacked CAGRs, which smooth the ups and downs of the worst lockdown months last spring; and also why we use the 16% trimmed mean CPI, which eliminates the highest 8% and lowest 8% of items in the overall CPI each month (both sets of deleted outliers are different each month).
In the present instance, therefore, off-setting the used car prices in the highest 8% of items during May is the -5.0% YoY drop in health insurance costs (if you believe that BLS whopper) and the -5.3% drop in sporting event prices, which, of course, have been largely zero since last April.
In any event, the 16% trimmed mean CPI for May was up by 4.7% annualized versus the April number and was higher by 2.62% on YoY basis.
Still, the more salient point is that on a two-year stacked basis the plain old CPI—used car prices and all—leaves not a scintilla of doubt: Consumer inflation is accelerating and rapidly.
During the last eight months the growth rate for the two year stack has risen from 1.48% to 2.55% per annum. And we don't recall a word in May 2019 about that year's reading being particularly deflationary. It was actually up 1.83% from May 2018.
Per Annum CPI Increase, Two-Year Stack:
October 2020: 1.48%;
November 2020: 1.59%;
December 2020: 1.78%;
January 2021: 1.92%;
February 2021: 1.99%;
March 2021: 2.07%;
April 2021: 2.23%;
May 2021: 2.55%.
Still, according to the Fed apologists there's nothing troubling about the above because the Fed is now only trying to hit its 2.00% inflation target "averaged over time".
Let's see. Here are the CPI growth rates going back to May 2014. It turns out you have to average back seven years before you have a shortfall from the 2.00% target!
CPI Increase per Annum To May 2021 From:
May 2018, 3-Yr, average: 2.31%;
May 2017, 4-Yr. average: 2.42%;
May 2016, 5-Yr. average: 2.31%;
May 2015, 6-Yr. Average:2.10%;
May 2014, 7-Yr. Average: 1.81%
You get the scam. These mendacious fools will just keep averaging back in time until the get a number that's a tad under 2.00%, smack their lips loudly and then pronounce the current inflation to be "transitory".
And they will also toss out any inflation index that undercuts their MOAAR inflation mantra—like all of the data reported above!
So we will say it again: The CPI is a highly imperfect general price measure owing to its one-sided treatment of quality (hedonic) improvements, wherein some reported prices are adjusted downward for improved product features like airbags and more powerful PCs, put few prices are adjusted upward for the junkie toys, towels, kitchenware, appliances and furniture that comes out of China.
But with the 8% highest and 8% lowest prices dropped out monthly to filter out the short-run noise, the 16% trimmed mean version of the CPI at least purports to be a fixed basket price index, not a variable weight deflator like the Fed's beloved PCE deflator.
In short, the 16% trimmed mean CPI puts paid to the "transitory" scam. Come hell or high water, this serviceable inflation measure has been rising at 2.00% per annum since the year 2000, and even more than that during the 1990s.
Thus, during the 112 months since the Fed formally adopted inflation targeting in January 2012, it has risen by 2.03% per annum and by 2.15% per annum since January 2000.
Equally significantly, there have been only a handful of times during the 256 monthly readings since January 2000 when the year-over-year measure dropped materially below 2.00%.
YoY Change, 16% Trimmed Mean CPI, 2000-2021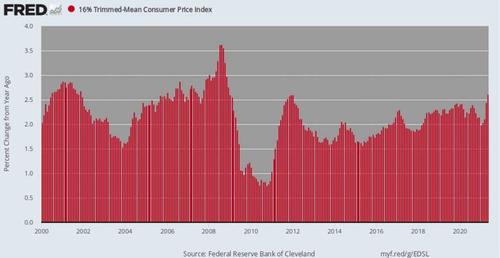 For want of doubt, here is the Fed's preferred short-ruler—-the core PCE (personal consumption expenditure deflator less food and energy). And the Fed's case for its insane money-pumping essentially boils down to the dueling information covered by the red bars above and the purple bars below.
As it happens, the one-year change in the core PCE deflator is 3.1% and the stacked two-year gain is 1.99% per annum. That latter is apparently not close enough to 2.00% for government work, meaning that the Fed needs to get more years into its average.
Even then, you have to be trained in the medieval theology of counting angels on the head of a pin to ascertain the purported earth-shaking "shortfall" from target. Compared to April 2021, here are the multi-year CAGRs on an April-to-April basis:
2019-2021: 1.99%;
2018-2021: 1.89%;
2017-2021: 1.92%;
2016-2012: 1.86%:
2015-2021:1.82%
That's right. For the five year-pairs shown above, the average CAGR for the core PCE deflator was 1.90%. It seems that "lowflation" amounts to that which you need a magnifying glass to ascertain— 10 basis points of shortfall.
Of course, our monetary bean counters are not done "averaging", either. If you go back to January 2012 when the Fed officially adopted inflation targeting, the core PCE deflator is up by 1.69% per annum, and since January 2000 it has risen by 1.75% per annum.
So there you have it. For want of 25-31 basis points of annual inflation—-averaging back to the beginning of the current century—you have a camarilla of central bankers giving deer in the headlights an altogether new meaning. That is to say, they are apparently not even thinking about thinking about tapering their massive bond-buying fraud owing to the barely detectable differences between purple and red bars of these dueling charts.
As we said a few days back, would that they had applied the 25th Amendment to the Federal Reserve Board.
These sick puppies are in urgent need of palliative care.
YoY Change In Core PCE Deflator, 2000-2021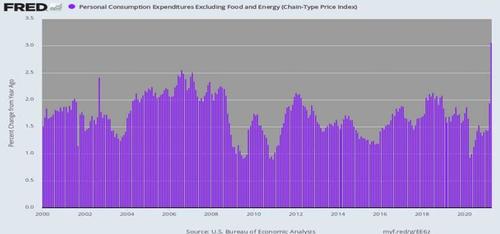 They are also in need of a dose of realism, and on that score there are three figures in the May CPI report which tell you all you need to know. To wit, compared to May 2020, durable goods prices were up by 10.3%, nondurables were higher by 7.4% and services less energy gained 2.9%.
In fact, in the recent history of these three figures lays a stinging refutation of the entire "lowflation" scam promulgated by the Fed money printers and their acolytes and shills on Wall Street and in Washington, too.
On this matter, the Donald was right, even if by accident or for the wrong reasons. What we are referring to, of course, is the "Shina" factor.
Beijing's form of state-controlled printing press capitalism has systematically drivendown the cost of manufactured goods and especially durables by, in effect, draining the rice paddies of China's great interior and herding its latent industrial work force into spanking new factories which paid wages less than meager. And CapEx costs were rock bottom, too, owing to $50 trillion of central bank-fueled domestic debt and the greatest cheap capital-driven malinvestment spree in human history.
The result was an intense, multi-decade long deflation of manufactured goods as the high labor costs embodied in US and European manufacturers were steadily squeezed out of global prices levels as production shifted to China and its East Asian supply chain.
That impact is patently obvious in the composition of the CPI among the three components which were flashing warning lights in today's inflation report.
Composition of CPI By Major Components, 2000-2021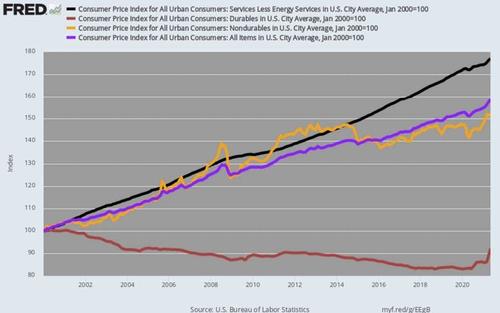 In the first place, the core of domestic inflation lies in the 58.8% weight of the CPI consisting of mainly domestically supplied services. The 2.9% YoY gain reported for May for CPI services less energy was essentially par for the course.
That is, during the last 21 years (since January 2000) this component (black line) has risen by 2.71% per annum, and since January 2012 it has gained a similar 2.63% per annum.
Needless to say, if there is any part of the inflation rate that the Fed can most powerfully impact, it is domestically supplied services like health care, education, housing, entertainment, travel and foods services. So where's the "lowflation" in that part of the CPI basket?
Alas, we don't have lowflation in services at all, but a stubborn 2.6%-3.0% upward price drift in domestic service components which account for nearly three-fifths of the household budget.
By contrast, the durable goods component (brown line) accounts for 11.1% of the CPI, and it's been an anchor to the windward for more than two decades. As of May 2021, prices were still 8% below their January 2000 level.
The truth is, the alleged lowflation on the top line CPI has been heavily attributable to the deflationary durable goods sector, but, alas, that era is apparently over. The Chinese rice paddies have been drained on a one-time basis and its labor force is now actually shrinking, while the Donald's ill-timed tariff barriers have forced production to move to higher cost venues, albeit not necessary the USA of A.
Either way, the anchor to the windward is largely gone, meaning that rising durable goods prices going forward will no-longer weigh as heavily on the CPI.
It should be further noted that during the past two-decades nondurable prices have also held-down the CPI top line—again in large part owing to the "Shina" factor and downward pressures from cheap apparel, footwear, home furnishings and the like.
During the past 21 years, the nondurables component (yellow line) of the CPI rose by 1.99% per annum, which is as close as you please to the target, but was also on anchor on the overall CPI top-line ( purple line) which increased by 2.19% per annum.
Alas, during the period since January 2012, nondurables rose by just 0.63% per annum owing to flat-lining energy and commodity prices, thereby pulling the overall CPI down to 1.80% per annum, where it too fell awry of the Fed's sacred 2.00% target.
But here's the thing. A smattering of surging nondurable goods prices in the May 2021 report are a stark reminder that the times they are a changin'.
On a YoY basis, these components suggest that "lowflation" in durables may have passed its sell-by date and that the 7.4% YoY gain in nondurables overall may be lifting, not suppressing, the CPI top-line going forward.
YoY Change In Major Nondurables Components:
Energy commodities: +54.5%;
Apparel: +5.6%;
Home furnishings and supplies: +3.7%;
Footwear: +7.1%;
Food away from home: +4.0%
Household furnishings and operations: +4.6%.
In sum, the chart above captures the one-time history of the Fed's phony "lowflation" narrative—an aberrant condition that is now fading fast. Sooner or latter they will run out of excuses and back inflation reports to average down. And that, in turn, means tapering of the Fed's great bond-buying fraud—the lynch pin of the greatest bond and stock bubble in recorded history.
Do we think that will trigger the greatest financial asset value collapse in modern times?
Why, yes, we do!
Stay Safe, Dump The Dollar
Stock Doc